Meet the owner and creator of NAG Bags
Amanda, most commonly known as Mandy, has been involved with horses all of her life in many ways and disciplines. From eventing, dressage, ranch riding, endurance, reining and bridle horse. Mandy has trained and schooled under great mentors, from Bert Rutten, Dietrich von Hopffgarten, Jackie Oldham, Cindy Ishoy, Lorraine Chapel, Richard Caldwell, Jonathon Field, to name a few.
Mandy's love for the horses runs deep and true. Mandy attributes this devotion to growing up with dedicated parents who spent many untold hours of unwavering support for her horse craze. Striving in the cold and wet, hot and dusty venues, they were always there cheering her on.
From owning horses since a young age, Mandy's main objective is to see the life of all horses to be as natural as possible, whether they are race, show or pleasure horses.
Mandy's equine education extends to associate degrees in marketing, agriculture, forage and production. In addition, she was working as a natural equine health care consultant and kinesiologist. Mandy has recently just become a Magna Wave practitioner as well.
After years of research and experience in the horse industry, Mandy discovered the need for a quality, safe net to feed horses. From this, Natural Alternative Grazers - slow feeders were designed, aka NAG Bags, were created. A system to mimic natural foraging and bring modern-day feeding to new heights.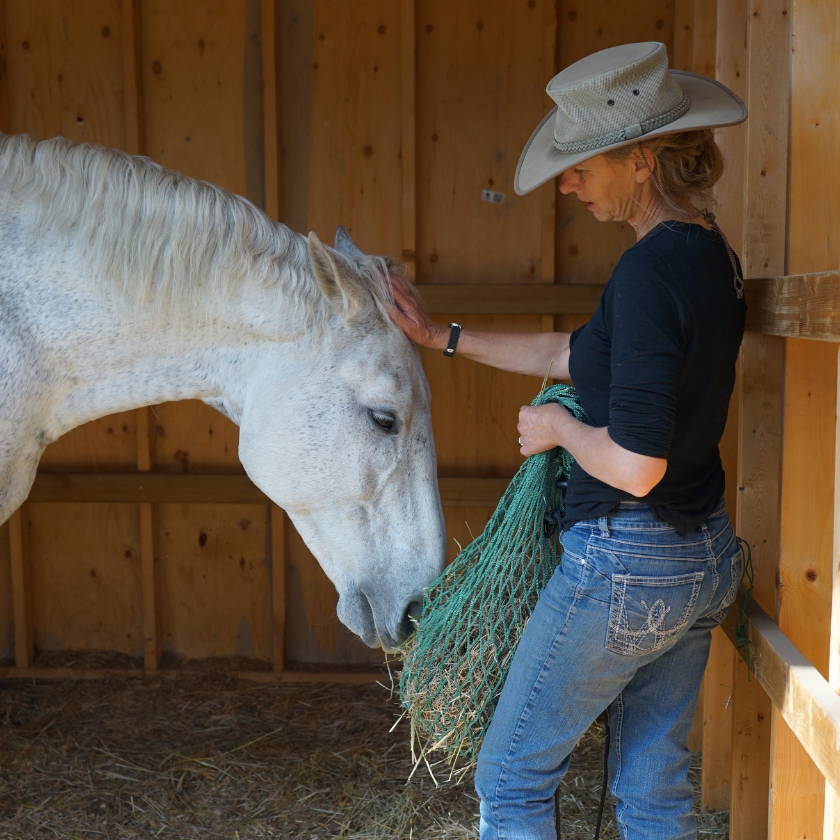 How and why did NAG Bags become?
It all started in December 2004, when Mandy travelled to pick up her new dream horse from Alberta, who was getting delivered from Oklahoma.
Mandy;
"I had seen Scottie, known asCall Me Listo, onlythrough videos not yet in person. Mentors and friends told me numerous times that Scottie was a perfect fit for me and the level I wanted to compete at, so I took a chance!
Forever a day, I will never forget it! It was cold and snowy, and he was just arriving at the barn. I only wish that I could have had it on video, but it's still a clear picture in my memories.
As the large roll-up door opened bringing him in, the hot air met the cold, and a fog blast filled the space, and I could barely see, but only Scottie was merging through the fog. Walking on egg whites, absolutely stunning, his coat was fine and glistening copper with his long black mane and tail, his eyes were wide open, and nostrils flared...he snorted! Almost like he was saying, I am here! The hauler handed him over to me and said, "Yeah, he sure is a beautiful horse, and I think he knows it.".
Although Scottie was a magnificent horse, he came with his own issues such as ulcers, stressed-out digestive and nervous systems. Being a top futurity show horse, training started at a young age, meaning Scottie was stalled more than outdoors. Scottie was provided with limited feedings, on a high grain diet, and heavily over-vaccinated.
The quest for healing and keeping Scottie happy and furthermore healthy began. Taking longer than expected, Scottie learned how to be outside over time, which scared him at first but began to adapt to his new surroundings. Wanting to reset him back to more natural feeding and living, getting Scottie on 24/hr forge was one of my main priorities. Avoiding hay belly, the possibility of getting him overweight which came down to training his mind to understand he will always have forge available.
While experimenting with old-school nets, you know the ones our mothers used? I was frightened due to the concerning dangers that the 6½ inches holes promoted. It had me worried for Scottie getting caught up in the net or overindulging himself - wishing there was just something better constructed and more functional on the market. After playing with materials, hole sizes and some time to get it right, finally the moment happened, which I had been waiting for. Scottie started to walk away from the net, knowing he could always return to food. He became less nervous and stressed, and his facial expressions changed. He was no longer a prisoner to the two flake diet (modern-day feeding), which caused Scottie nothing but stress and ulcers.
Through the hours of fitting and tweaking samples, I created a hay net that offered Scottie and me - peace of mind. Soon my friends noticed the changes in Scottie, physical and mentality and asked if I could make them something similar. Little did I know this was the start of Natural Alternative Grazers, aka NAG Bags.  
From cutting nets on my knees in front of my garage, my daughters helping after school roping and clamping nets, and to my partner Shawn being open-minded to the idea of wrapping a net around our round bales in -20 degrees weather. It's been an incredible journey to get where we are today. Scottie taught me more than any horse has before, and I'm incredibly grateful to help others in a similar position where I once was. The joy of hearing daily stories with clients comments like "My horse is my horse again.", "He is so calm and content." and "WOW, just wow." bring smiles to our faces. Comments like these make the long hard nights worth every minute!
Scottie is now in his twenties, still has the sparkle of fun and love in his eyes. But most of all still looks as stunning as he did the night I got him.
If you want to share your journey with NAG Bags and how it impacted your animals or your lifestyle - head over to our Testimonial page and join our community